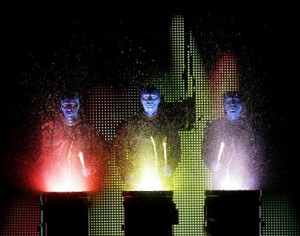 Incrediblue…..simply Incrediblue.
I know it is not a word, but there is simply no other way to describe the incredible performance by the Blue Man Group. If you have ever been to a Blue Man Group concert then you understand what I'm talking about. If you haven't been to one….What are you waiting for? The Blue Man Group is an awesome, intoxicating feast for the senses and there is simply no better venue than the Bass Performance Hall.
There are no bad seats in Bass Hall. The design of the theater allows a differing vantage point from every location but maintains the closeness and warmth of local theater. Additionally, the acoustics in Bass Hall are superb. The music envelops you in a sea of sound that literally comes from everywhere.
The Blue Man Group was originally founded in 1987 by Matt Goldman, Phil Stanton and Chris Wink. In its most simplistic form, it involves a trio of Blue Men playing drums, games and PVC pipe musical instruments of their own creation. The energy level of the theater is high the minute the lights go down and the music starts. Each Blue Man, while being clad in the same attire as the rest, still maintains their personality and their own on stage persona. Sometimes the funniest reactions are based on a Blue Man's facial expression of awe and wonder at something as simple as a purse.
The music is a mixture of techno and rock with some heavy drum beats. The musicians, while not dressed in Blue Man costumes, are every bit a part of the performance as the Blue Men. The costumes worn by the musicians are colorful and react well with the black lights used in the performance, giving the musicians an other-worldly glow.
The entire performance is more akin to a party than anything else. The Blue Man Group plays heavily to the audience and encourages group participation at certain points in their performance. They cover a vast range of performance art, from painting to different musical styles. The set was a scaffolding array that had large movable screens that allowed the Blue Men to interact with their electronic personas in what can only be described as mesmerizing.
I agree with the advertisements that state "Experience the Phenomenon". There is only one way to truly get a feel for the Blue Man Group and that is through experience. The worst part about the performance is the short run. This phenomenon only lasts through July 1st, 2012 so you better get your Blue on…fast.
BLUE MAN GROUP
Created, Written and Directed by Matt Goldman, Phil Stanton and Chris Wink
Bass Performance Hall
Directed by Marcus Miller and Blue Man Group
Production/Lighting Design – Joel Moritz
Costume Design – Chase Taylor
Sound Design – Matt Koenig
Video Design – Caryl Glaab and Blue Man Group
Blue Man Character Costume – Patricia Murphy
Recorded Sound Design and Music Supervisor – Todd Perlmutter
Associate Creative Director – Michael Quinn
Production Supervisor – Kori Prior
Music Director – Byron Estep
Associate Director – Michael Dahlen
Production Manager – Jason Juenker
Production Stage Manager – Lizz Giorgos
Head Carpenter – Dan Sylvia
CAST:
Blue Man –
Kalen Allmandinger
Kirk Massey
Peter Musante
Michael Rahhal
Bhurin Sead
Brian Tavener
MUSICIANS
Julian Cassanetti
Jerry Kops
Michael A. Petrucci
Chris Reiss
Ramsey Roustom
Clement J. Waldman, III
Reviewed performance on June 26th, 2012
__________________________________________________________

Bass Performance Hall, 4th and Calhoun Streets
Fort Worth, TX 76102
BLUE MAN GROUP runs through July 1st
Tickets are $38.50 – $99.00.
For further information, go to www.basshall.com. To purchase
tickets by phone please call the Bass Hall Box Office at
817-212-4280 or toll-free at 1-877-212-4280.