Fool for Love, produced by L.I.P. Service, was a riveting drama from start to finish. The drama was intense and the acting was phenomenal. The play centers around two battling lovers in the Mojave Desert. May is at a motel there, trying to start a new life when Eddie comes to convince her to move with him to the farm they always dreamed of.
The set design was outstanding and Jason Leyva did a wonderful job. The Mojave motel room was perfectly fitted out and painted to give the impression of a rundown rustic motel. A large wooden bed made from old splintered wood took up much of the left stage while a weathered card table and chairs adorned the right. Next to the card table was a large cushy chair where The Old Man perched and waited. A large window was covered with metallic blinds and had a neon light on the outside that simulated the lighting trim of the motel. The set design was also replete with a rope, which Leyva did a wonderful job roping the bed repeatedly with, a shotgun which was a foreshadowing of a darker aspect of the drama and simulated alcohol.
Sound design by Phyllis Huaute and Jason Leyva was well done with car noises, horse sounds and some gunfire. The sounds seamlessly mixed with the action and the drama to enhance the performance.
The costuming by Jason Leyva was well done as well. The outfit worn by Leyva as Eddie was both rural and rustic symbolizing the farmhand background from which the character originated. The outfits worn by May were also symbolic. At the beginning of the play May was huddled covering her face wearing a simple pajama like outfit but soon transformed into a vision of desire in her red evening dress and red lipstick as the drama and passions enflamed.
The lighting design by Robert Molina was masterfully done. During one of the more intense moments the lights were repeatedly shut off by Eddie but the audience was able to still see the action unfold.
Tanasha Friar did a superb job as May. Her acting was powerful and intense. There were some rough scenes that required wrestling with Leyva and she performed them well. The confrontations were flawlessly
executed and the crying scenes, while somewhat long and drawn out, felt genuine. At one point, May stared off into the distance and recounted how she was going to murder Eddie and his girlfriend, The Countess, which brought chills to the audience.
Jason Leyva portrayed Eddie in an authentic and rustic manner. Leyva had a subtle accent, leaning towards rural unsophisticated, that didn't overpower but gave him enough character so you could feel the farmhand in him. The confrontations between Eddie and May didn't feel rushed and the tension could be felt in the audience.
Martin, May's date for the evening, was played by Sean Massey. I'm not sure whether the character was designed to be portrayed as dull-witted or innocent but the overall impression was that Martin was a bit slow. Massey did a wonderful job in his portrayal. He kept a straight face during Eddie's howling laughter and maintained a cool composure when Eddie was in his face and angry.
The strangest character in the play, The Old Man, was performed by Kit Hussey. It was difficult to tell whether this character was a figment of Eddie and May's imagination or if he was some crazy mass delusion. Hussey did an excellent job in his portrayal. His southern drawl and mannerisms perfectly accentuated the accent that Leyva portrayed with Eddie to seamlessly blend the two characters together as father and son. Hussey also did an excellent job in remaining static during the times that he was not an active participant in the drama. Hussey would sit idly by in his chair motionless until the opportune time to spring forward and impart either a comedic story or an impassioned plea for defense.
Fool for Love is a simple one-act play. There were no scene or set changes but it carried with it some very intense moments and impactful
acting. L.I.P. Service's production was a pleasure to watch.
CAST:
Director – Angel Davis
Set and Costume Design – Jason Leyva
Lighting Design – Robert Molina
Sound Design – Phyllis Huaute and Jason Leyva
Stage Manager – Phyllis Huaute
May – Tanasha Friar
Eddie – Jason Leyva
Martin – Sean Massey
The Old Man – Kit Hussey
Reviewed performance on June 1st, 2013
__________________________________________________________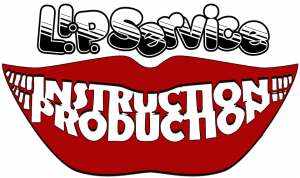 L.I.P. Service at Arts Fifth Avenue
1628 Fifth Ave. Fort Worth,TX76104
Fool for Love runs through June 8th
Wednesday – Saturday at 8:00 pm
Tickets are $15.00 each.
For tickets and information please call (817) 923-9500 or
go to www.jasonleyva.com.