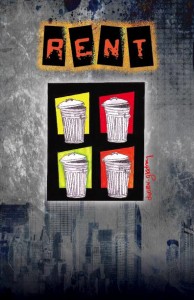 "Five hundred twenty-five thousand six hundred minutes
Five hundred twenty-five thousand moments so dear
Five hundred twenty-five thousand six hundred minutes
How do you measure, measure a year?" (Seasons of Love)
How do you measure a year? That's the question that Greater Lewisville Community Theatre (GLCT) answers with their production of RENT.
RENT is the story of a year in the life of a group of friends and artists living in New York City. A story of hopes and dreams. A story of friendship and of loss amid the chaos of AIDS in their community.
The story follows long time friends Mark Cohen and Roger Davis who share a slum apartment. They live in New York City and spend their days following their dreams. Roger Davis dreams of writing the one great song while Mark Cohen lives his life through the lens of a camera. The rent hasn't been paid in over a year and their one time friend Benjamin "Benny" Coffin III, after marrying into a rich family, buys both the building and the lot next door with hopes of tearing it down and building a recording studio. Meanwhile another long time friend Maureen Johnson, an eccentric performer, determines to save both the building and the make-shift tent city of homeless that are squatting in the lot next door.
RENT is a big production and challenge for any theatre. GLCT accepted the challenge. The set design was well crafted given the size of the venue. At times the stage seemed cramped with all actors and ensemble cast present. However GLCT made good use of the rows in between seats for actors to enter and exit the stage. The set represented the apartment, the lot and other locations with minimal alterations. A few pieces of furniture were moved on and off to give the impression of different locations. The set artists and crew did a wonderful job with painting graffiti. I especially enjoyed the giant creature painted on the back wall.
The costumes were great. The homeless had appropriately tattered clothing while the main characters were decked out in their traditional garb. Mark had a striped shirt, flannel jacket, scarf and a vintage camera. Roger had a long sleeve shirt, jeans, leather jacket and a guitar. A stand out was the clothing of Angel Dumott Schunard. It was outrageous and over the top, befitting that of an eccentric cross dresser.
RENT is traditionally a difficult musical to perform. The characters run a gambit of emotions through the year and need to show both the highs and lows with equal energy.
The cast did an admirable job. The musical was very energetic and the songs were sung with enthusiasm. Brandon Ford did a great job in his portrayal of Mark Cohen. His gestures and mannerisms worked well for the character. Ford had a talent for acting and did this part well. However, Ford's soft voice was difficult to hear over the orchestra. RENT had some powerful songs, with deep meaning. The words were important. As a main character, Mark was instrumental in bringing out that deep meaning. It was lost. Ford's soft voice was also overshadowed during the duets and ensemble pieces. It was as if during the songs the character just faded to the background.
Lance Morse put in a strong performance as Roger Davis. Roger was one of the more difficult characters in RENT due to his moodiness and his personal story arc of lost and then found love. Morse did it well. He gave a believable performance of angst and sorrow. Mournful yet hopeful, Morse displayed his emotions in both song and verse. There were a few times that his songs were off key but he projected well so it didn't impact the depth of soul.
From the moment that Tom Collins (Ecko Wilson) and Angel Dumott Schunard (Michael McCray) hit the stage it was magic. Wilson and McCray performed as if they were old friends. The characters' love for each other was a main point running through the story and it was felt. Every time Wilson and McCray sang a duet the audience held their breath in anticipation. McCray did a phenomenal job in his portrayal of Angel. He was outrageous when he needed to be and calm, patient and caring during the lows. His performance of "Today 4 U" was a pleasure to watch. The energy with which McCray filled the theatre was astounding. He was jumping up on tables and off the stairs – in heels. Wilson gave a stable performance throughout the musical but really shone in the final "I'll Cover You". With tears streaming down his face Wilson said goodbye to his love. Powerful.
Benjamin "Benny" Coffin III was portrayed by Rob Findlay. Findlay did well in the character. In a cast of deep, highly emotional characters, Benny just seemed like an afterthought. The other characters vilified Benny but I never got to the point where I saw him as the villain.
Caroline Dubberly played Mimi Marquez, the love interest addict of Roger Davis. Dubberly did an outstanding job. She was a sexy, provocative temptress. Dubberly got the point across well. There were a few times, as with Ford's singing, that her songs were lost to the orchestra. It may have been due to her placement on stage or concentration on dancing. The times that I lost her voice she was grinding on the back steps nearest the orchestra. However, the songs she shared with Morse were beautiful. The two shared a wide depth of emotion in their duets.
Kelsey Macke, who played Maureen Johnson, was a breath of fresh air. Her rendition of "Over the Moon" was one of the highlights of the musical. Macke's animated performance left the audience in stitches. She brought a much needed light-heartedness to an emotionally raw story.
An undersold character was Joanne Jefferson (Octavia Y. Thomas), the lesbian love interest for Maureen. Thomas played the character well but I don't believe she reached the peak. Thomas underutilized her range and depth. In the duet with Mark (Ford), "Tango Maureen", she was able to overpower Ford's soft spoken voice but her duet with Maureen, "Take Me or Leave Me", left me wanting more. The exchange between Maureen and Joanne was a one-sided domination by Maureen (Macke).
This musical would not be complete without the awesome energy of the ensemble cast. The ensemble cast added to the overall experience. From homeless people to drug addicts to police officers, the ensemble cast filled in the gaps to form a complete story. Their pace, projection and vocals were impressive.
RENT was a story about heart, passion and living your dreams. GLCT brought this story to life with its own passion. Should you see it? Definitely. The songs were passionate. The story was filled with emotion. You will leave GLCT with tears in your eyes and hope in your heart.
RENT
Book, Music & Lyrics by Jonathan Larson
Greater Lewisville Community Theatre
Directors – Wendy Barrett & Wendi Brozek
Music Director – Margaret Miller
Choreographer – Brandon Harvey
Stage Manager – Cody Williams
Technical Director/Lights – John Damian, Sr.
Sound/Projection – Shawn Lundy
Costumes – Nancy Birkett
Costume Assistants – Katie Birkett & Bryan Carroll
Video Production – Kelvin Baugh & Kris Henderson
Set Artists – Ron Givens & Brian Scott Hampton
Set Crew – Adam Honore', Grant Williams
Spotlight – Chris Buras
ORCHESTRA
Keyboard – Margo Dillard
Drums – Paul Jaso
Guitar – Jason Smith
Bass – John Macintyre
CAST
Mark Cohen – Brandon Ford
Roger Davis – Lance Morse
Tom Collins – Ecko Wilson
Angel Dumott Schunard – Michael McCray
Benjamin Coffin III, "Benny" – Rob Findlay
Mimi Marquez – Caroline Dubberly
Maureen Johnson – Kelsey Macke
Joanne Jefferson – Octavia Y. Thomas
Ensemble – Josh Bradford, Tony Capps, Lindsey Hall, Rhiannon
Houston, Danielle Martin, Matthew Purvis, Justin Reed,
Fatima Rodriguez, Dustin Simington, Maryann Williams
Reviewed performance on July 8, 2011
__________________________________________________________

Greater Lewisville Community Theatre
160 W. Main Street, Lewisville, TX 75057
RENT Runs through July 31st
Fridays and Saturdays at 8:00 pm and Sundays at 3:00 pm
For tickets and information please call 972-221-SHOW (7469) or
go to www.glct.org.
****************************************************************