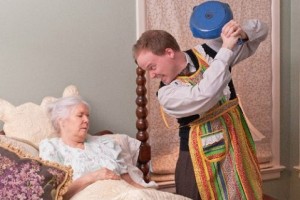 One wouldn't believe that a play centered on a nephew's death vigil for his aunt would inspire laughter but that is exactly what was served up during Amphibian Stage Production's presentation of this Morris Panych play. "VIGIL" was a darkly comedic satire on loneliness that bordered the absurd.
The play begins as Kemp; a quirky, brooding misanthrope arrives at his aunt's house after receiving a letter that she is gravely ill. Kemp, having only the desire for his aunt's belongings post mortum, decides to impatiently wait for the passing of his aunt. The audience is treated to a one-sided diatribe about the ills of society, the problems with humanity, in addition to morbid jokes being directed at his aunt regarding her funeral.
As the months roll on, Kemp regales the audience with memories of his past as an effeminate child growing up with an abusive mother, and a manic depressive, failed magician of a father while angrily demanding an explanation from his aunt as to why she never rescued him. His aunt quietly and demurely smiles at him from her bed, safely tucked behind clenched bed sheets and blankets. Kemp's sole desire is for his aunt to pass with as little effort on his part as possible. Much to his chagrin, the aunt appears to be getting better. At one point Kemp relays his feelings. "I'm concerned about your health these past few days", he says. "It seems to be improving". As time wears on, Kemp unburdens his soul and makes a lasting connection.
The entirety of the play took place in Grace's bedroom. The set design by Sean Urbantke was awe inspiring. It looked as if the he ripped a dilapidated bedroom out of an old house and placed it in the theater. The walls had drywall missing that revealed the underlying boards. The windows had glass with curtains drawn across it. The look and feel was phenomenal. The props in the bedroom added to the overall feel of the set. Antique fans, old vinyl records, and worn out furniture invoked the feeling of an unkempt household. The bedroom had working doors and windows, and the set designers spared no detail. There were even props behind the hallway door to make it looked lived in.
Additionally, there were special effects behind the window to portray the passage of time. Leaves fell. Snow fell. The sounds of children playing outside could be heard from outside the window. It was as if the set was alive.
The lighting design by Chad R. Jung and Aaron Lentz was also impressive. During Act I the lights blacked out intentionally after every morbid barb Kemp launched at Grace. The jarring way in which the lights blacked out set the mood perfectly. However, as the play progressed the lighting became more and more specific and detailed, finally culminating in Act II on Grace's bed. The design and flawless execution added to the play's appeal.
The costuming was a little weak. I could understand Grace's minimal attire as she spent the entire play in bed, but Kemp's lack of wardrobe was a little distracting. Kemp, aside from the brief time he wore his aunt's robe, basically spent the entire year in the same clothes.
This play is essentially the interaction between two people – Kemp, played by Jonathan Fielding, and Grace, played by Elly Lindsay.
Fielding did a superb job portraying the effeminate, asexual Kemp. The morbid jokes were delivered with expert timing, and the ranting monologues were very emotionally driven. There were a few times Kemp even broke down in tears, which Fielding did a remarkable job conveying. Fielding masterfully portrayed a far away stare as he looked wistfully out the window, recounting Kemp's childhood. At times, I could feel the torment and raw emotion that Kemp must have lived through.
I think Elly Lindsay, as Grace, had by far the more difficult role in this performance. With any character, a lot can be discovered in the text of the dialogue. The devil is in the details so to speak. Often times we can surmise someone's mood by what they say or how they say it. In this instance though, Grace had very few lines. The majority of the play was dominated by the monologues and rantings of Kemp. Lindsay's performance was a direct reaction to Fielding's. Lindsay portrayed Grace with alarming clarity and expression. I found myself trying to watch Lindsay's face as Fielding delivered his lines. The expressions were priceless – shock, disbelief, and sometimes even compassion during the more emotionally charged rants of Kemp. Lindsay performed them well.
Through laughter and tears, VIGIL by Amphibian Stage Productions gives you a peak into the complex world of loneliness and acceptance. It's a roller-coaster of emotion from start to finish with a surprising yet extremely satisfying end.
VIGIL
by Morris Panych
Amphibian Stage Productions
Director – Andrew Volkoff
Production Stage Manager – Sondra Speer
Scenic Designer – Sean Urbantke
Costume Designer – Susan Austin
Lighting Designers – Chad R. Jung and Aaron Lentz
Sound Designer – David Lanza
Technical Director – Jennye James
Assistant TD/Special Effects – Eric Briggs
Properties Designers – Jennye James and Judy Norman
Light Board Operator – Natalie Chapa
Sound Board Operator – Dakota Crossin
Production Intern – Kate Kowalski
CAST
Grace – Elly Lindsay
Kemp – Jonathan Fielding
Reviewed performance on Friday, September 23rd, 2011
__________________________________________________________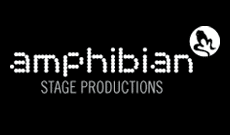 Amphibian Stage Productions
The Hardy and Betty Sanders Theater
Fort Worth Community Arts Center, 1300 Gendy Street
Fort Worth, TX 76107
Vigil through October 2nd, 2011
Wednesdays at 7:30pm, Thursdays, Fridays & Saturdays at 8:00pm
Sundays at 2:00pm
Ticket prices are $25 for adults, $20 for students and $15
for seniors. Group Discounts are $5 off per ticket for groups
of 6+. For tickets and information please call 817-923-3012
or go to www.amphibianproductions.org.