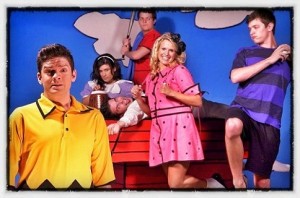 Good Grief! The musical, You're a Good Man, Charlie Brown by ONSTAGE in Bedford was fantastic. Admittedly, at first I was fairly skeptical on whether a comic strip would make a good musical. In fact, I remarked to my wife on whether or not it would be any good. After the performance, I was sold. ONSTAGE in Bedford made a believer out of me. The musical, which is based on the Peanuts comic strip, was incredible.
The moment we stepped into the theater to take our seats it was like stepping into the comic strip. The set design by Alex Krus was amazing. Krus was able to capture the simplistic artistic style of the comic strip. Charles Schulz would have been proud. The seats that the actors sat upon were boxes painted in similar fashion to their costumes. It was a nice touch to brighten up what might have otherwise been bland boxes. The right side of the stage had a revolving wall that supported Snoopy's doghouse and several signature pieces were moved on and off the stage, including a picture perfect replica of Lucy's psychiatric help desk and Schroeder's mini-piano. Just the look and feel of the set screamed Peanuts.
The costume design by Derek Whitener was well done. The moment each character stepped on stage it was apparent who they were. From Charlie Brown's signature yellow and black shirt to Lucy's iconic blue dress, each character was a living embodiment of the comic strip.
The acting and singing was phenomenal. Derek Whitener gave an amazing performance as Charlie Brown. He seemed very capable of channeling the whining and down trodden spirit of Charlie Brown. His facial expressions were often tell-tale signs of his angst and frustration at his situation. However, Whitener was also able to get across Charlie Brown's indomitable, never give up attitude.
Connor Thompson, as Linus Van Pelt, did a remarkable job. The slight lisp with which he spoke and the shy way he carried the character was a perfect representation of the immature and youthful naiveté of the character. Thompson's song "My Blanket and Me" was one of the better songs in the musical. It felt heartfelt and sincere and you could feel how important a blanket might be.
Kim Borge, as Sally Brown, also did a wonderful job. Sally is quite possibly the youngest character in the musical and Borge performed the role well. Between her high-pitched voice and the constant twitching motion with which she stood, it was easy to imagine a 4 or 5 year-old child. The highlight of the musical was the "Rabbit Chasing" song. The interaction between Sally and Snoopy during this number was very entertaining and performed with a high amount of energy.
Leah Clark did an outstanding job as the crabby Lucy Van Pelt. Lucy was probably the only other character, aside from Charlie Brown, that really ran the gambit of emotions. From her love for Schroeder to the acknowledgement that she was a crabby person, Lucy was on an emotional roller coaster. Clark performed each high and low well.
Wes Cantrell portrayed Schroeder very well. He kept accurate time on his piano with the orchestra and his performance of "Beethoven Day" was inspired. Cantrell did a wonderful job interacting with Lucy and her constant unwanted advances, and his "Book Report" was priceless.
Zak Dacus Reynolds' portrayal of Snoopy was inspired. Reynolds had the audience laughing at every turn. Whether in song or just making faces in the background, Reynolds played the character with energy and exuberance. "Suppertime" was a truly inspired musical number and I could imagine that this is my dog's exact reaction when he is fed. The only downside to the musical was the way too long "Red Baron Fight". As Snoopy sat atop his doghouse and fought the Red Baron in his plane the scene seemed to drag on and the dialogue was difficult to hear over the sound effects and music.
Last but not least, I have to give a nod to Melissa Spell who did the voice of the teacher Miss Othmar. The voice was spot on from the television show and a perfect addition to the classroom scene with Sally.
Lon D. Barrera did an amazing job directing this cast. The actors seemed to know exactly where to stand and maintained good eye contact with the audience. They were able to converse with each other and still engage the audience. However, a downside to the direction was when Snoopy stood upon his dog house or when Lucy stood upon the large wooden chair their faces were often times obscured from view and lost in the darkness.
ReEtta Roever did a superb job choreographing the dances. The actors danced and careened across the stage with elegance and poise. There were a few who even attempted the signature Charlie Brown dance which was a humorous addition.
The whole musical was filled with energy and laughter. You're a Good Man, Charlie Brown by ONSTAGE in Bedford is family friendly and a perfect way to spend an evening.
YOU'RE A GOOD MAN, CHARLIE BROWN
Books, Music and Lyrics by Clark Genser
Additional Dialogue by Michael Mayer
Additional Music and Lyrics by Andrew Lippa
Based on the comic strip Peanuts by Charles M. Schulz
ONSTAGE in Bedford
Directed by Lon D. Barrera
Musical Director – Kristin Spires
Choreographer – ReEtta Roever
Stage Manager – Amanda Arnold
Costume Designer – Derek Whitener
Additional Costumes – Marcus Lopez
Wig Master – Heather Permenter
Lighting Designer – Cris Blake
Set Designer – Alex Krus
Properties Master – Amanda Arnold
CAST:
Linus Van Pelt – Connor Thompson
Charlie Brown – Derek C. Whitener
Sally Brown – Kim Borge
Lucy Van Pelt – Leah Clark
Schroeder – Wes Cantrell
Snoopy – Zak Dacus Reynolds
Miss Othmar – Melissa Spell
Reviewed performance on August 10th, 2012
__________________________________________________________

ONSTAGE in Bedford Trinity Arts Theater, 2819 Forest Ridge Drive, Bedford, TX 76021
YOU'RE A GOOD MAN, CHARLIE BROWN runs through September 2nd
Friday and Saturday at 8:00 pm and Sunday at 3:00 pm
Tickets are $15.00 regular, $12.00 seniors, students and
Bedford residents.
For reservations and more information, call 817-354-6444
or go to www.onstageinbedford.com.